97 minutes, color, 16mm, 1989.
German with English subtitles.
If a woman doesn't have equal rights, is she equally responsible for the crimes of a nation?
The Germans And Their Men is a penetrating study of two particular obsessions: national identity and masculinity. Probing the German male psyche with biting wit and clarity, the film opens with an interrogation of men in the airport – and just why they are wearing ties?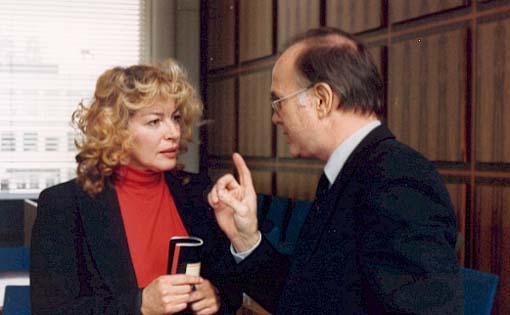 Elisabeth Müller is an Austrian in search of a husband. Vacationing in Bonn, she combs the German capital and interviews the "typical" German man. Everyone from taxi drivers, schoolboys and theatergoers to civil servants, members of parliament and the Federal Chancellor himself fall under the purview of our woman Müller. Combining journalistic techniques with real and fictional characters, this rich scenario provokes critical questions around gender issues and sexual politics in any discussion concerning the formation of a contemporary national German culture. Originally produced for ZDF (a German TV station), the film offers popular sentiments with startling insights, making provocative connections between feminism, fascism and the legacy of sexism in German history.
"Still the best female helmer on the scene in Germany, Helke Sander takes her time between productions to pour as much personal philosophical reflection into her film as possible." – Variety
"A worthwhile film for those wanting a fix on Germany´s ruling male elite. Recommended." – Library Journal
"Witty, critical, and sometimes outrageous" – Afterimage
Some Festivals:
London International Film-Festival
AFI Los Angeles International Film Festival
Montreal Women´s Film Festival
Starring: Renée Felden as Lieschen Müller
Interviews: Claudia von Alemann, Luise F.Pusch, Helke Sander
Director, Script: Helke Sander
Photography: Lilly Grote
Production: Helke Sander Filmproduktion, Bremer Institut Film/  Fernsehen, ZDF
First broadcast: August 15, 1989, ZDF.
Cinema premiere: November 22, Hamburg (Metropolis)